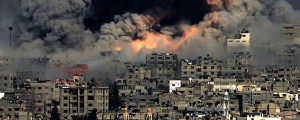 Sam Harris has a transcript of a podcast on his website titled "Why Don't I Criticize Israel". It's thought-provoking and cogent, but in the end unpersuasive.
You should read or listen to Harris's podcast in it's entirety. What I'm going to do here is evaluate and examine many of Sam's arguments and others you may have heard. Sam makes as good a case as you can possibly make for the Israeli government while hewing as close as possible to a secular, humanist point of view. I'll quote liberally, but the podcast must be heard in it's entirety for it's full effect.
A note on philosophical inclinations towards justice. If you're a utilitarian, the case is quite clear.  Israeli action has caused the deaths of close to 2,000 people in this latest attack on Gaza in summer 2014.  Most sources agree that 65-80% of these are civilians (the Israeli government claims over half were not civilians).  Over 400 children have been killed.  At the other end, Hamas has managed to kill over 60 Israeli soldiers, two Israeli civilian and one Thai civilian in addition to damaging some buildings and setting off sirens all across Israel generally disrupting everyone's day. Israeli forces have destroyed key infrastructure in Gaza, leaving most of the population without water or power and around 500,000 without access to their homes, a great number of which have been destroyed.  In utilitarian terms, the case is clear, the democratically elected government of Israel is by far the worse offender and it's actions are disproportionate. Even in terms of rocket strikes, the numbers are disproportionate.  Hamas has launched a little over 2,900 rockets, the IDF has struck over 3,800 targets, often multiple times.  In some ways, it feels like heavily armed US cavalry running down entire Native American villages because they've attacked a white settlement.
But I am not a utilitarian in the strict sense of the word, as I suspect few of us are. In my view, for an action to be above reproach, you must utilize just means to achieve just ends. It is impossible to argue the Israeli government's means are completely just (in this instance or in past actions), and I would say the ends are not either. Kant's categorical imperative is that you cannot use rational beings as a means to an end. So you cannot kill 25 civilians to assassinate a single Hamas leader. Even if your goal of assassination is just.  [This in itself is questionable. Israel's government feels differently about assassinations when its own officials are targeted. Begin started the '82 Lebanese war over an assassination attempt (by a rogue faction of the PLO which was not in Lebanon).]
As Americans we understand all this is true, and we actually live these principles in some instances.  Bill Clinton recently said about Osama Bin Laden "I nearly got him. And I could have killed him, but I would have to destroy a little town called Kandahar in Afghanistan and kill 300 innocent women and children, and then I would have been no better than him. And so I didn't do it."  When Barack Obama finally had an opportunity to take out Osama Bin Laden, he sent 24 US commandos and support staff 200 miles from their base to do the job. They did not kill his two wives, who were shielding Osama Bin Laden when he was found.
In stark contrast, Israelis forces in the past month alone have bombed numerous homes over the past few weeks, killing hundreds of people, whole families and over a hundred children. In one instance, 17 civilian members of the Hamas police chief's extended family were killed by a bomb targeting his aunt's home while he was visiting it.  The demolition of homes, via bomb or bulldozer have been part of Israel's strategy to bring "quiet" for quite some time.
A final note. This is written for an American audience. Here in the US, we get a rather bland view of Israel-Palestine relations, heavily tilted in favor of the Israeli right-wing (which has been in power for about 20 years now). If you're reading this in Europe, you should probably stop, the pendulum has likely swung the other way in your media. If you're in France, you should probably try to get your elected representatives to do their best to stop the mobs that are threatening Jews and destroying their property.
Continue reading "Why Do I Criticize The Israeli Government? My Response to Sam Harris"