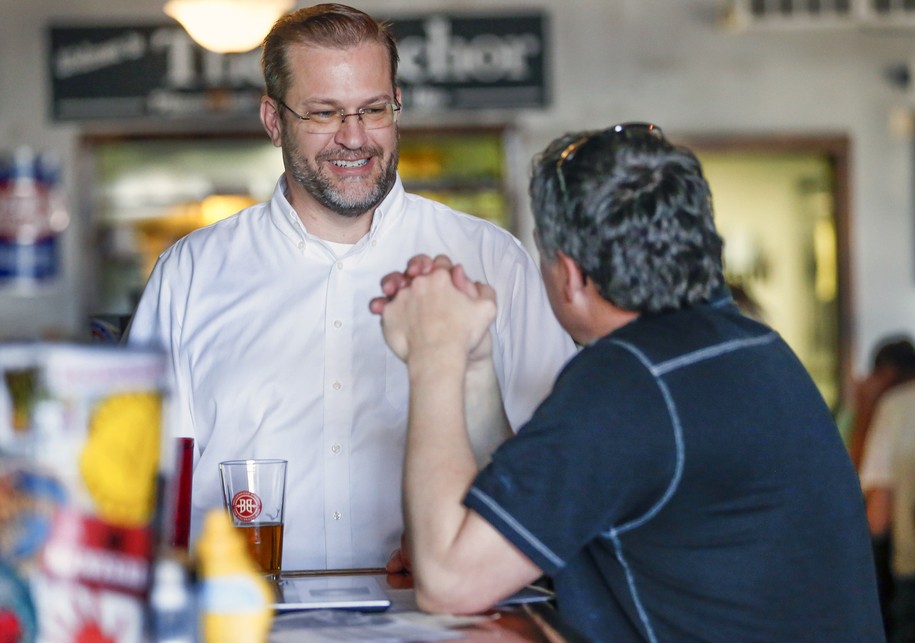 * Since corporations are people, I think my headline is fair.
The difference was just about 6,000 votes. There were a lot of nay-sayers, including on this site. Several people assumed the GOP was playing mind-games or fifth-dimensional chess by diverting resources to this race.
The closeness of this race should be a reminder that progressive Democrats do have a chance to win, even in the reddest of districts.
We have a chance to win districts that are 84% white.
We have a chance to win districts that are home to Koch industries.
We have a chance to win districts where the Republican won by 30% in the previous election.
What it takes is a candidate who is willing to do the work and has a message that resonates with working people.
As volunteers, we should flock to such a candidate to help campaign and GotV.
For everyone who says Democrats don't vote in off-years, this district puts you to shame.
| YEAR | R VOTES | D VOTES | R DROP | D DROP |
| --- | --- | --- | --- | --- |
| 2004 | 173,171 | 81,388 | | |
| 2006 | 113,676 | 60,297 | -34% | -26% |
| 2008 | 177,617 | 90,706 | | |
| 2010 | 119,575 | 74,143 | -33% | -18% |
| 2012 | 161,094 | 81,770 | | |
| 2014* | 138,757 | 69,396 | -14% | -15% |
| 2016 | 166,998 | 81,495 | | |
| 2017 | 60,945 | 51,467 | -64% | -36% |
*No libertarian candidate ran in 2014.
Off-year voter turnout for Democrats is better than it is for Republicans. The one outlier (2014) isn't perfectly comparable because no Libertarian ran.
So let's not say Democrats don't turn up to vote in off-cycles. Democrats showed up to vote, we beat GOP turnout by 28%.
There will be a lot of discussion about this race. Was it a sensible allocation of resources to send $8 million and boatloads of attention to Jon Ossoff in GA-6 while sending no money and no attention to James Thompson? Would national Democrats have responded differently if Dennis McKinney had won the primary (i.e. was it about the candidate rather than the race)?
If everyone is afraid of "nationalizing" races and attack ads the GOP might run featuring Pelosi/Schumer etc, shouldn't we all just go hide under a rock till the GOP promises never to run attack ads? Did the "stealth strategy" achieve its purpose? No, the NRCC eventually did run ads tying Thompson to Pelosi, Cruz visited and Trump robocalled. Shouldn't the DCCC follow the NRCC's lead and compete everywhere? Or should they keep all their powder dry for GA-6? It's the only race they're asking people to volunteer for.
Whatever you think about those questions, today's result should lead you to one conclusion. We can win. We can win in Kansas, we can win in Montana, we can win in Georgia, we can win in South Carolina. We need to put in the work, and do it everywhere.
There is not a liberal America and a conservative America—there is the United States of America". — Barack Obama
Next stop, Montana. Let's work on election Rob Quist to Congress. Donate to his campaign here. Rob is well known across Montana, and is endorsed by Our Revolution which will GotV for him. He has momentum. Please help by volunteering. You can text, phonebank, or donate.
* GA-6 will likely end up in a run-off on June 20.
— Cross-posted at DailyKos.com | @subirgrewal