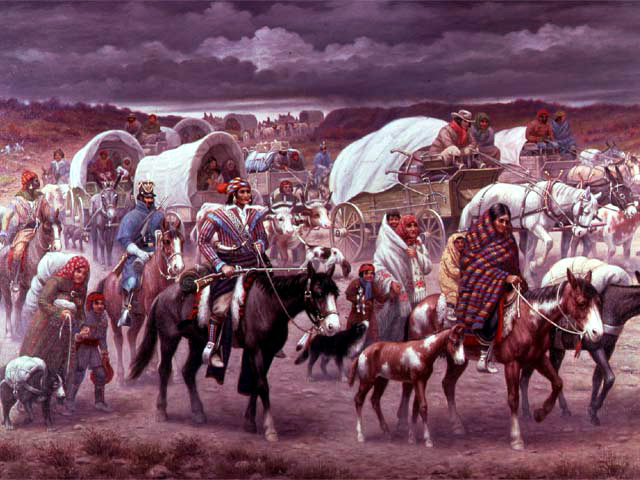 If you were uncertain about the parallels between our country's treatment of Native American peoples and Israel's treatment of Palestinians, this article in today's Haaretz should help clarify them.
The headline is:
Israeli government plans to forcibly relocate 12,500 Bedouin.
Concentrating the Bedouin into a few permanent towns represents the culmination of a 40-year process of limiting their pasturage, restricting their migrations and refusing to let them build permanent homes in places where they have lived for decades. This process accelerated after the Oslo Accords were signed in 1993.Since then, the Civil Administration has issued thousands of demolition orders against Bedouin tents and shacks, to which the Bedouin frequently responded by petitioning the High Court of Justice.

Shlomo Lecker, a lawyer who represented the Bedouin in nearly 100 such cases, told Haaretz that while the court never addressed his claim that the Bedouin were being discriminated against in comparison to Jewish settlers, it did accept his argument that they can't be evicted when they have no other place to live. That is what prompted the Civil Administration to start planning new towns for them.
The Bedouin, of course, are the semi-nomadic desert tribes. The claim that Israelis were a "people without a land for a land without people" was never really true, even for the Negev which was held up as an example of how Israel would "make the desert bloom". Palestine also contained major population centers with long histories like Haifa, Lydda, Jaffa, Acre, etc. etc.
If you were wondering why Steven Salaita was appointed to the American Indian studies program at UIUC, this is pretty much why. His work focused on the parallels between the Palestinian and Native American experience and writing.
In 67 years of existence, Israel has built hundreds of new towns and settlements for its Jewish population. The only towns built for the Palestinian Arab population are for Bedouins who are being dispossessed of their pastoral lands. This is part of the reason most serious observers say the expulsion and cleansing of Palestinians continues to this day.
Jamil Hamadin, a member of the Jahalin tribe, told Haaretz the Civil Administration never consulted with his clan or any other Jahalin clans about the plan. He added that not only does putting different tribes into the same town run counter to Bedouin customs, but so does putting different clans from the same tribe into the same town."We've replaced wool tents with tin shacks and prefab homes, but that doesn't mean we've changed our customs and laws, which obligate us to live and herd at a great distance from each other, or our need to live in open spaces," he said.
Israel's government spares no expense or effort to re-create historical Jewish settlements, whether they're towns or archeological parks. Not so much when its Palestinian or non-Jewish traditions and culture practiced by living people.  To deal with those, there's an active program to erase history and replace it with pine trees.  Some people are more equal than others.
This should all remind us of our own terrible history with the native peoples of America. Netanyahu's administration looks a lot like Andrew Jackson's.