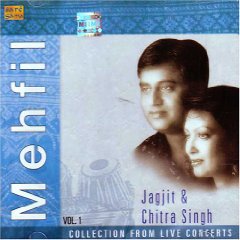 Mehfil
Jagjit and Chitra Singh (1990)
Duniya jise kahte hai
Kaun kaht hai
Kiya hai pyar
Honthon se chhoo lo tum
tum to hain gham nahin sharab nahin
Hum to hain pardes mein
sunte hain ki mil jaati hai
Hamardeep ghazlen ishq mein ghairat-e-jazbaat
Medley of hits yeh daulat bhi le lo
Memorable Ghazals of Jagjit and Chitra (1990)
Baat niklegi to phir door talak jayegi
Lyric:
Sarakti jaye hai rukhse naqab ahista ahista
Lyric:
Gham Badhe aate hain qatil ke nigahon ke tarah
Pareshan raat sari hai sitaro tum to so jaao
Dost ban ban ke mile mujhko mitane wale
Lyric:
Dil ko gham-e-hayat gawara hai in dinon
Apne hathon ki lakeeron mein pasale mujh ko
Angdai par angdai leti hai raat judai ke
Sadma to hai mujhe bhi keh tujhse juda hoon main
Humko dushman ki nigahon se
Lyric:
Pareshan raat sari hai sitaro tum to so jaao
Lyrics:
Aankh se aankh mila
Socha nahin achha bura
Pasine pasine hue ja rahe ho
Bahut dinon ki baat hai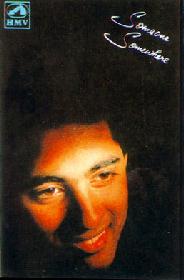 Someone Somewhere
Jagjit and Chitra Singh (1990)
HMV STHVS-63579
Din guzar gaya
Lyric: Fayyaz Ahmed Fayyaz & Fana Nizami
Meri zindagi kisi aur ki
Lyric: Muzaffar Warsi
Ab ke barsat ki rut
Lyric: Muzaffar Warsi
Fasila to hai
Lyric: Shamim Karhani
Aadmi aadmi ko kya dega
Lyric: Sudarshan Faakir
Mere dukh ki koi dawa na karo
Lyric: Sudarshan Faakir
Koi samjhayega kya raz-e-gulshan
Lyric: Fana Nizami
Dekha to mera saaya bhi
Lyric: Ayaz Jhanswi
Dil hi to hai (not in cass)
Lyric: Ghalib
Hope
Jagjit and Chitra Singh (1991)
Khuda humko aisi khudai na de
Lyric: Bashir Badr
Ab khushi hai na koi dard rulanevala
Lyric: Nida Fazli
Dekha jo aaina to mujhe sochna pada
Lyric: Farakh Roohvi
Na shivale na kalisa na haram jhoote hain
Lyric: Ayaz Jhansvi
Dhoop hai kya aur saaya kya
Lyric: Zafar Gorakhpuri
Kya khabar thi is taraha se woh juda ho jaayega
Lyric: Rustom Sehgal 'wafa'
Tanha tanha hum rolenge
Lyric: Nida Fazli
Aise hijr ke mausam
Lyric: Shahryar
Kabhi yun bhi aa meri aankh meein
Lyric: Bashir Badr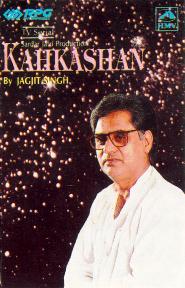 Kahkashan, the TV Serial
Jagjit Singh (1991)
Produced by: Ali Safdar Jafri
Directed by: Jalal Agha
Music Jagjit Singh
Photograph: Parvez Kably
HMV/EMI: HTCS-O4B-4425
Humdum yahee hai (Title music)
Tujhse rukhsat ki
Lyric: Josh Malihabadi
Todkar ahd-e-wafa
Lyric: Hasrat Mohani
Chupke chupke raat din
Lyric: Hasrat Mohani
Ab to uth sakta nahin
Lyric: Hasrat Mohani
Singer: Chitra Singh
Shayer-e-fitrat hoon mein
Lyric: Jigar Moradabadi
Singer: Vinod Sehgal
Roshan jamal-e-yaar se hai
Lyric: Hasrat Mohani
Bol ik tare jhan jhan
Lyric: Josh Malihabadi
Kisko aati hai masihaaye
Lyric: Josh Malihabadi
Agar na zohrajabeeno ke
Lyric: Jigar Moradabadi
Singer: Vinod Sehgal
Kya hind ka zindaan
Lyric: Josh Malihabadi
Singer: Chorus
Tabiyat in dinon begana-e-gham
Lyric: Jigar Moradabadi
Singer: Vinod Sehgal
Muddat mein woh phir
Lyric: Hasrat Mohani
Ya rasool allah
Lyric: Hasrat Mohani
Singer: Ram Kumar
Ae watan mere watan
Lyric: Josh Malihabadi
Ab mere paas tum aayee ho
Sham-e-gham kuchh
Aye gham-e-dil kya karoon
Yeh jo qaul-o-qaraar hai
Singer: Vinod Sehgal
Hijaab-e-fitna parwar
Alwida
Raat bhar deeda-e-namnaar
Singer: Jagjit Singh & Asha Bhosle
Taskeen-e-dil-e-mehzoo na hui
Jaanewale sipahi se poocho
Singer: Kumar Sanu & Chorus
Ghazal ka saaz uthao
Ik chameli ke mandwe tale
Kisika yun to hua kaun
Dekhna jazb-e-muhabbat ka asar
Ab aksar chup chup se rahe hain
Nazar wo hai ke jo (only in CD)
Bangal ki sham-o-sahar dekh raha hoon (only in CD)
Singer: Vinod Sehgal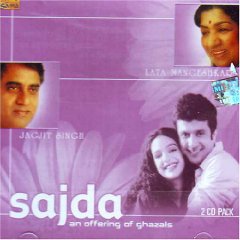 Sajda (1991)
Jagjit Singh and Lata Mangeshkar (two volumes)
Dard se mera daaman bharde ya allah
Lyric: Qateel Shifai
Kabhi yun bhi
Lyric: Bashir Badr
Tujhse milne ki saza denge
Gham ka khazana tera bhi hai mera bhi
Lyric: Shahid Kabir
Kisko qaatil mein kahoon
Lyric: Ahmed Nadeem Qasmi
Dil mein ab dard-e-mohabbat ke siva kuchh bhi nahin
Har taraf beshumar aadmi
Lyric: Nida Fazli
Aankh se door na ho
Meri Tasveer mein rang aur kisi ka to nahin
Lyric: Muzaffar Warsi
Mausam ko isharon se bula kyon nahin lete
Lyric: Zafar Gorakhpuri
Allah jaanta hai
Lyric: Akhtar
Dhoop mein niklo ghataon mein nahakar dekho
Lyric: Nida Fazli
Dhuan banake fiza mein uda diya mujhko
Mili hawaon mein udne ki woh saza yaaro
Tere jalwe ab mujhe
Lyric: Saba Afghani
Jagjit Singh Punjabi Hits
Featuring songs from the Latest "Diva Bale Sari Raat" and the earlier hit "Long-Da-Lishkara"
EMI: CDNF 1.40008
Only 4 of the ten tracks on this disc are sung by Jagjit (though he has set the music for all ten). Of course it's still worth buying if only for the songs from Diva bale saari raat.
Diva Bale Sari Raat
 Music: Jagjit Singh
Diva Bale Sari Raat
Singer: Jagjit Singh
Lyric: Ranjit Rana & Hakim SuffiIf there's a song by Jagjit that touches you as profoundly within the first 5 seconds, I haven't heard it. This track is perfect, if only for the tone with which Jagjit begins the song.
Main Teri Aa
Singer:Chitra Singh
Lyric: Satwant Kainth
Boliyan
Singers: Minoo Purshottan & Meghna
Lyric: Traditional
Lori
Singer: Chitra Singh
Lyric: Harpal TiwanaThe range of Chitra's voice is used to good effect in this song, as usual her Punjabi songs seem to be much finer than the Urdu ghazals. Lori in particular is saturated with emotion. The music in Chitra's voice can leave one immobile. Jagjit has used rather unorthodox musical effects in this one, sounds that are natural more than anything else. There is technical proficiency in the instruments used, but Chitra's voice overpowers the music.
Dama Dam Mast Kalandar
Singers: Vinod Sehgal & Chorus
Lyric: TraditionalLong-da-Lishkara Music: Jagjit & Chitra Singh
Sare Pindch Puare Paye
Singer: Jagjit Singh
Lyric: Inderjit Hassanpuri
Long-da-Lishkara
Singers: Minoo Purshottam, Dilraj Kaur & Vinod Sehgal
Lyric: Gurdas Mann
Mein Kandyali Thor ve
Singer: Jagjit Singh
Lyric: Shiv Kumar Batalvi
Ishq Hai Loko
Singer: Jagjit Singh
Lyric: Sikander Bharati
Chhala
Singer: Gurdas Mann
Lyric: Gurdas Mann
Adaa
Jagjit Singh & Lata Mangeshkar (1992)
Dono ke dil hai
Jab kisi se koi gila rakhna
Main naseeb hoon
Main kaise kahoon jaaneman
Kahe ab ki ae bahar
Ya to mit jaiye
Are too pawan basanti
Hum dosti ehsaan wafaa
Tum saaz chhedo
Kisi nun koi pyaar na kare.
In Search (1992)
Jagjit Singh
Apne hoton par sajana chahata hoon.
Dosti jab kisise ki jaaye
Kaheen aisa na ho daman jalalo
Ya to mit jaiye ya mita deejiye
Kaise kaise haadse sahte rahe
Khamoshi khud apni sada ho
Bebasi jurm hai hausla jurm hai
Jab kisi se koi gila rakhna
Rare Gems Ghazals (1992)
Jagjit & Chitra Singh Their Earliest Recordings
EMI: CDNF 152041
This album has the appropriate title, the ghazals compiled here are among the earliest recordings available, and they are certainly Rare Gems. This album is a must buy for any serious Jagjit & Chitra fan. Perhaps the most interesting aspect of the record is the progression in Jagjit's style that is painfully obvious. The earliest records have Jagjit straining his voice in a lilting classical style and one can see this change in the later records till we finally come across the Jagjit we know so well. The cover of the CD is quite amusing, perhaps second only to the cover on the "Live at Royal Albert Hall" disc. Jagjit looks like a relic out of 70s on the cover. In all seriousness, these 18 ghazals are among the finest by Chitra and Jagjit that you will find anywhere, it's a must have.
Apna gham bhool gaye (1966)
Lyric: Faruk Kaiser
Music: C. K. Chauhan
Saqiya hosh kahan tha (1966)
Lyric: Shamim Shahabadi
Music: C. K. Chauhan
Yeh kis ka tasavvur (1970)
Lyric: Jigar Moradabadi
Music: Jagjit Singh
Mujhe de rahen hain tasalliyan (1970)
Lyric: Jigar Moradabadi
Music: Jagjit Singh
Woh jo ham mein tum mein qarar tha (1970)
Lyric: Momin (Traditional)
Music: Jagjit Singh
Bas ke dushwar hai (1970)
Lyric: Ghalib (Traditional)
Music: Jagjit Singh
Ab to ghabrake yeh kahte hain (1973)
Lyric: Zauq (Traditional)
Music: Jagjit Singh
Kab se hoon kya bataaon (1974)
Lyric: Ghalib (Traditional)
Dil ko kya ho gaya khuda jaane (1970)
Lyric: Daag (Traditional)
Music: Jagjit Singh
Shahron shahron aaj hain tanha (1969)
Lyric: Krishan Adeeb
Music: Jagjit Singh
Phir kuchh is dil ko beqarari hai (1973)
Lyric: Ghalib (Traditional)
Music: Jagjit Singh
Os pade bahar par (1974)
Lyric: Jigar Moradabadi
Music: Jagjit Singh
Ishq fana ka naam hai (1974)
Lyric: Jigar Moradabadi
Music: Jagjit Singh
Ajab apna haal hota jo visaal-e-yaar hota (1970)
Lyric: DaghDehlavi (Traditional)
Music: Jagjit Singh
Jab bhi aati hai teri yaad kabhi
Lyric: Krishan Adeeb
Music: Jagjit Singh
Dhuan utha tha diwane ke jalte ghar se (1975)
Lyric: Shamim Shahabadi
Music: Jagjit Singh
Patta patta boota boota (1970)
Lyric: Meer Taqi Meer (Traditional)
Music: Jagjit Singh
Uski hasrat hai jise dil se mita bhi na sakoon (1975)
Lyric: Ameer Meenai (Traditional)
Music: Jagjit Singh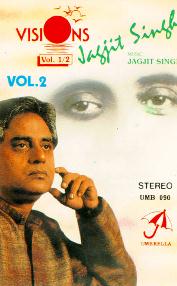 Visions, in two volumes (1992)
Performed by: Jagjit Singh
Jhoom ke jab rindo ne pila dee
Nazar nazar se
Ye peenewaale bahut hi ajeeb hotey hain
Kisne bheegay huye baalon me ye jhatka paani
Kabhi kabhi yun bhi humne
Lyric:
Tere nisaar saqia, jitni piyoo pilaye jaa
Na keh saaqi bahar aane ke din hai
Darde dil mein
Kaun aaya
Lyric: Bashir Badr
Aap aaye janab
Lyric: Rustam Sehgal Wafa
Aapko dekhkar dekhta reh gaya
Lyric: Aziz Qaisi
Koi dost hai na raqeeb hai
Lyric: Rana Sahri
Kuchh na kuch to zaroor hona hai
Lyric: Wajida Tabassum
Phir se mausan baharon ka
Lyric: Zahid
Sar jhukaaoge to
Lyric: Bashir Badr
Kal raat jahaan main tha
Lyric: Khalid Kuwaiti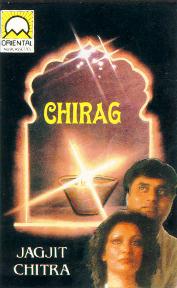 Chirag
Jagjit & Chitra Singh (1993)
Tareef uss khuda ki jisney jahaan banaya
Zara chehray say kamli ko hata do ya rasulla
Ab to maray khuda mujhey jalwa
Tujhay dhoondta ta mai charsoo
Chirag dil key jalao key eid ka din hai
Duniya se dil lagakar duniya se kya mila
Suntey hai ke mil jatee hai har cheez dua sey
Madinay ko jaayen ye jee chahta hai
Your Choice
Jagjit & Chitra Singh (1993)
Kiya hai pyar jise
Woh dil hi kya
Tujhko darya dili ki kasam
Mujhse milne ke
Uski baten bahar ki baten
Hum to hai pardes mein
Lyric: Rahi Masoom Reza
Zakhm jo aapki
Chale bhi aao
Humsafar hota koi to
Aaj tum se bichhad
Nama gaya koi
Gham mujhe hasrat mujhe
Dil ke ujle kaagaz par
Naho gar aashna nahin hota
Shabe-gham mere allah
Live with Jagjit Singh (Double)
EMI: CDNF 1.52046/7: © 1993
Introduction by Brijbhushan
Aah ko chahiye ik umr asar honey tak
Lyrics: Mirz Ghalib
Ishq ki daastan hai pyaare
Lyrics:Jigar Moradabadi
Tere khat
Lyrics: Rajendranath 'Rahbar'
Aadmi Aadmi ko kya degaa
Lyrics: Sudrshan Faakir
Aap ko dekhkar dekhta reh gaya
Lyrics: Aziz Qaisi
Uskey haathon pe kuch kaapta reh gaya
Lyrics: Waseem Barelvi
Huzoor aapka bhi ehtraam karta chaloon
Lyrics: Shadaab Lahori
Jhoom ke jab rindon ne pilaa di
Lyrics: Kaif Bhopali
Meri Tanhaaiyon tum hi lagaa lo
Lyrics: Prem Warbartoni
Main nashe mein hooN
Lyrics: Shahid Kabir
Mainu tera shabaab lai baitha (Punjabi)
Lyrics: Shiv Kumar Batalvi
Chaand ke saath kai dard puraaney nikle
Lyrics: Amjad Islam Amjad
Raga: Bandish
Lyrics: Darbari
Tere qadmon pe sar hoga
Lyrics: Seemab Akbarabadi
Apne Hothon par sajana chahta hoon
Lyrics:Qateel Shafai
Medley (Yeh Daulat bhi le lo, Tum itna jo muskura rahe ho, Tum ko dekha to eh khayal aaya, Ahista ahista
Chuley agg; na ghade de vich paani (Punjabi)
Lyrics: Inderjeet Hassanpuri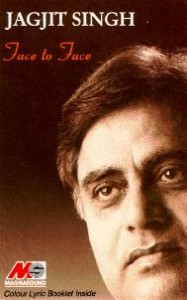 Face to Face
Jagjit Singh (1994)
Produced and Composed by Jagjit Singh
Mixing and Mastering Engineer: Daman Sood
Studio: Western Outdoor, Bombay
Magnasound: C4-Z1230
Sachhi Baat
Lyrics: Sabir Dutt
Dairo-Haram
Lyrics: Khamosh Ghazipuri
Be-sabab Baat
Lyrics: Shahid Kabir
Zindagi Tune
Lyrics: Rajesh Reddy
Tumne Badle Hamse
Lyrics: Daagh Dehlavi & Ameer Meenai
Pyar Ka Pahla Khat
Lyrics: Hasti
Zindagi Ai Zindagi
Lyrics: Zaqa Siddiqi
Sheikh Ji
Lyrics: Sudarshan Faakir
Koi Mausam (not on cassette)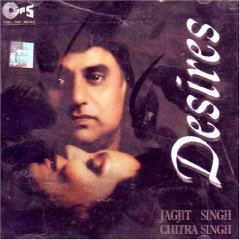 Desires (1994)
Din aa gaye shabab ke, aanchal sambhaaliye
Abke baras bhi woh
Gulshan ki faqat kaaton se nahin
Lyric: Saba Afghani
Music: Jagjit Singh
Kanto ki chubhan
Yeh kaisi mohabbat
Jab naam tera pyar se
Lyric:
Shamm-e-mazar thi
Baat saaqi ki na Tali jaayegi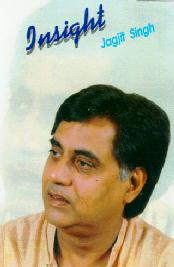 Insight
Jagjit Singh (1994)
Lyrics: Nida Fazli
Santoor: Surendra Sharma
Tabla Girdhar Prasad, Abhinav Upadhaya
Dholak: Narayan Sonu
Violin: Deepak Pandit
Guitar: Arshad Ahmed
Bass: Tony Vaz
Synthesizer: Anjan Biswas
Recording Engineer: Hassan Sheikh
Weston-3BXH-2186
This is possibly the most philosophical set of ghazals Jagjit Singh has ever sung. They run the entire gamut, from the clarity of yeh zindagi to the wandering metaphors in garaj baras. Certainly Nida Fazli has outdone himself here, and Jagjit Singh infuses just the right amount of reflection into his voice to balance the apparent agon.
Garaj baras pyaasi dharti parThis ghazal has more allusive metaphors than I can enumerate and it never fails to move me to consideration. What I like about Jagjit's rendering is the movement between a slurring chant and the clarity that enters his words when he encounters something new in the song. This is a trip if there ever was one.
Lyric
Main roya pardes mein bheega maa ka pyar
Badla na apne aap ko jo the wahi rahe
Yeh zindagi aaj to tumhare
Jeevan kya hai chalta phirta ek khilona hai
Muh ki baat sune har koi dil ke dard ko jaane
Apna gam leke kahin aur na jaaya jaaye
Chaand se phool se ya meri zuban se suniye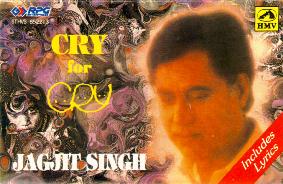 Cry for Cry
Jagjit Singh (1995)
Music: Jagjit Singh
Recorded by: Daman Sood & Avinash Oak
Cover: Chien Wien Lee
HMV: STHVS-852213
A brief article on the Cry project and Jagjit Singh.
Ab main ration ke kataron mein nazar aata hoon
Lyric: Khaleel Dhantejvi
Aaj ke daur mein ae dost ye manjhar kyoon hai
Lyric: Sudarshan Faakir
Maa sunao mujhe woh kahani
Lyric: Nandlal Pathak
Singer: Siza Roy
Kabhi ansoo kabhi khushi bechi
Lyric: Abu Taalib
Apne chehare se jo jhahir hai chhupayen kaise
Lyric: Waseem Barelvi
Mujh mein jo kuchh achchha hai sab uska hai
Lyric: Kashmirilal Zakir
Woh rulakar hans na paya der tak
Lyric: Nawaz Deobandi
Lab pe aati hai dua banke tamanna meri
Lyric: Dr. Iqbal
Singers: Siza Roy and chorus of school children
Mirage
Jagjit Singh (1996)
HMV STHVS-852217
Ek brahman ne kaha hai
Main na hindu na musalman
Zindagi se badi saza hi nahin
Mai rahe, meena rahe
Apni marzi se kahan
Rishta kya hai tera mera
Dushman ko bhi seene
Se lagana nahin bhoole
Koi chaudhvi raat ka chand bankar
Unique: Jagit Singh
TIPS: TEI-5001
Music: Jagjit Singh
Recorded by Daman Sood
Tera Chehra Kitna Suhana Lagta Hai
Lyric: Kaif Bhopali
Maan Mausam Ka Kaha
Lyric: Bashir Badr
Bas Ake Waqt Ka Khanjar
Lyric: Krishan Bihari Noor
Mere Qareeb Na Aao
Lyric: Sabah Sikri
Aap Se Gila Aap Ki Qasam
Lyric: Sabah Sikiri
Mujhe Ghussa Dhikhaya Jaa Raha Hai
Lyric: Sheri Bhopali
Kaun Aayega Yahan
Lyric: Kaif Bhopali
Bujh Gayee Tapte Hue Din Ki Agan
Lyric: Pandit Vindo Sharma
Tera Chehra Kitna Suhana Lagta Hai
Lyric: Kaif Bhopali
Selections from Films
Jagjit and Chitra. CD
Hum to yun apni zindagi se mile
Jaise betaab dil ko karaar aa gaya
Na mohabbat na dosti ke liye
Main aur meri tanhai
Mere darwaze se ab chand
Hum bhi sharabi tum bhi sharabi
Mera geet amar kar do
Tamannaon ke behlave mein
Tum nahin aaye abhi
Main aur meri tanhai
Nashili raat mein
Main ghar mein chunariya
The Greatest Punjabi Hits of Jagjit and Chitra
EMI: CD-PSLP-5275
The songs in this album are mixed, some of them are typically light-hearted punjabi ditties and there are others that move. They might be difficult to appreciate if you don't understand Punjabi, but Jagjit's voice flows in Punjabi in a manner very different from his handling of Urdu/Hindi. Worth it if only for the shift in intonation. Chitra is very god with the punjabi as well, her voice has the sharpness I like in punjabi singers. Shiv Batalvi's lyrics especially are rendered beautifully by both singers. The music is rustic, and Jagjit has used the complete range of instruments a folk singer would. This is my favourite disc by Chitra & Jagjit.
Sare pindch puare paye
Lyric: Inderjeet Hassanpuri
Music: Jagjit & Chitra Singh
Film: Long da Lishkara
Ishq hai loko
Lyric: Sikandar Bharati
Music: Jagjit & Chitra Singh
Film: Long da Lishkara
Main kandyali thor ve
Lyric: Shiv Kumar Batalvi
Music: Jagjit & Chitra Singh
Film: Long da Lishkara
Ghamaan di raat lammi ab
Lyric: Shiv BatalviIt isn't often that a poet asks for the death of his muse. Yet the concept of muse doesn't port well into this environment, for Shiv it is the consciousness of his sorrow that drives him to write.
Music: Jagjit Singh
Umraan de sarwar
Lyric: Shiv Batalvi
Music: Jagjit Singh
Maye ni maye mere geetan de nainan vich
Lyric: Shiv Batalvi
Music: Jagjit Singh
Rog banke reh gaya
Lyric: Shiv Batalvi
Music: Jagjit Singh
Eh mera geet kise na gaana
Lyric: Shiv BatalviIronic beyond comprehension, a song Shiv writes and at the same time denies to anyone else the pleasure of singing. If Shiv were a god, the homage we could pay him would be to listen to his voice or not listen at all.
Music: Jagjit SinghPerfect song, evokes the image of a poet on the street corner, perhaps strumming a thumri. The song itself contains the self-reflexivity found in ghazals but here ported into a 'folkish' setting.
Tusin kehri rutte aaye
Lyric: Shiv Batalvi
Music: Jagjit SinghChitra is very good in this one, unusual movement through a difficult song, I love completely the manner in which she halts between words and syllables, gives the song a pathos all its own.
Raat gayee kar tara tara
Lyric: Shiv Batalvi
Music: Jagjit SinghA slower song, and solitary as well. Perfect for a very late evening in Punjab, preferably somewhere the stars are still visible. Must remember next time I'm there. The tone is heavy, yet Jagjit at times almost slurs the words, a different sort of sadness.
Jaach mainu aa gayee gham khaan di
Lyric: Shiv Batalvi
Music: Jagjit Singh
Yaariya rab karke
Lyric: Shiv Batalvi
Music: Jagjit Singh
Maye ni main ik shikra yaar banaya
Lyric: Shiv Batalvi
Music: Jagjit SinghJagjit carries this song on his voice alone, the music is subsumed by the rhythm in his voice. Another reflective song, the unobtrusive nature of the music almost turns it into a wail. Perhaps the most significant sense I get from this (short) poem is a slow realization of lost innocence, yet there is an element of denial and almost a desire for reaffirmation, as one were afraid of making such a judgement alone.
Dhai din na jawani naal chaldi
Lyric: Inderjeet Hoshiarpuri
Music: Jagjit SinghA much lighter song, in this case from a live concert. The enthusiasm of the audience would almost convince one this is a wedding and we're invited. Jagjit is then just the "uncle" who remembers boliyan well.
Charkha mera rangla
Lyric: Inderjeet Hoshiarpuri
Music: Jagjit Singh
Boliyan
Lyric: Anjaan
Music: Jagjit Singh